We use a full 5-stage process for our powder-coating of alloy wheels and rims. We also utilise the best products and equipment available to ensure the most hard wearing and elite finish unsurpassed by any in the Leeds and Yorkshire area.
Powder coating has many advantages to conventional paint application:
MATERIAL EFFICIENCY – Once we have meticulously prepared each wheel, we apply our coats using a highly efficient and effective technique called electro-static paint application. By charging both the paint and your wheels alternately for each coat we can achieve a perfect covering, meaning no runs, drips, or inconsistencies that can often lead to weak points in the surface and/or peeling of paint.
TOUGHNESS – Once we have applied the paint to your specification we oven-cure the wheels to bind the paint to the metal in a way that cannot be achieved with conventional restoration techniques. Our process and finish exceeds the standard of leading auto-manufacturers.
Our Leeds based team will meet any requirement for powder coating & alloy wheel repair in the Yorkshire area. We also have a fleet of mobile repair vans at our disposal if you are unable to journey to our garage.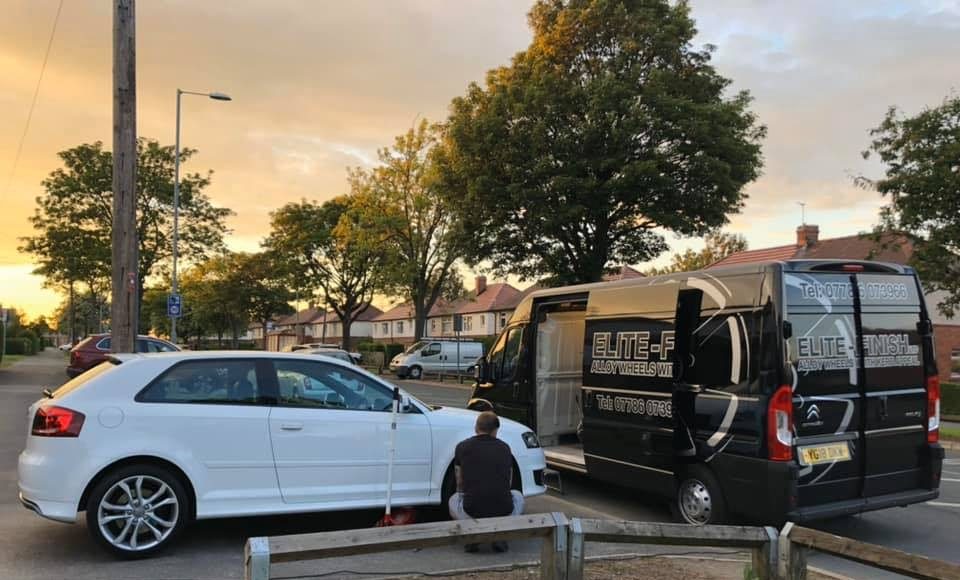 ELITE-FINISH POWDER COATING EXAMPLES